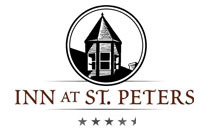 Planning your next getaway has never been easier.
1668 Greenwich Rd. • St. Peters Bay, PEI C0A 2A0
Ph. (902) 961 2135 • Fax (902) 961 2238 • Toll free: 1 800 818 0925 • Email: [email protected]

Dining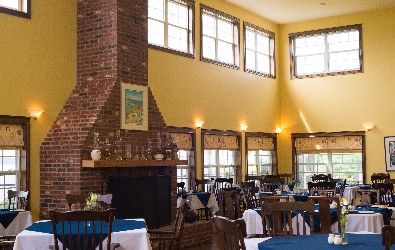 To make a reservation
please call

(902) 961 2135
or
1 800 818 0925

See why Bob Gray of the Island's newspaper The Guardian, named The Inn at St. Peters "The Meal of The Year" and why the Zagat Survey of Prince Edward Island awarded the Inn's restaurant an Excellent rating.

When you enter the dining room the first thing you notice are the wall to wall windows which provide you with stunning views of St. Peters Bay. Evenings are especially spectacular and there are many nights the verandah is crowded with dinner guests taking pictures of one of PEI's prettiest sunsets. Enhance your dining experience by planning to arrive a half an hour earlier to enjoy a cocktail or a selection from our extensive wine list in the Great Room, on the verandah or at the Bar.
As the sun descends beneath the waters, our Chefs and Kitchen Crew work magic in their domain, fashioning epicurean delights you will not forget. Whether it is visiting the North Shore fishermen, local farmers, selecting vegetables and herbs from our gardens or baking all of our own breads and pastries, our Chefs create exceptional cuisine for even the most discriminating palate in a casual fine dining atmosphere.
At the Inn you have the freedom to select from our wide ranging menu. With an extensive list of appetizers, entrees and desserts along with daily specials to select from, even someone dining with us multiple times can enjoy a different meal every night.
Our menu always has a vegetarian entree and our Chefs are able to accommodate those guests who are vegan or gluten free.
As a room guest, a full hot country breakfast is included in your room rate as long as your reservation has been made directly with the Inn. Also, as a room guest, should you decide to join us for dinner you dine a la carte, your choice from our menu with the option of a 3 course dinner for $50 per person. We are very flexible on this and it is not something you have to decide on ahead of time.
We serve dinner every day of the week commencing May 28, 2021 through October 2.

We recommend reservations and welcome those Island visitors who are not staying at the Inn.
Dinner is served! While our menu is constantly changing, here are just a few of the selections that have been on our menu this summer:

Appetizers ($12-$18)


Salad, watermelon, cucumber, sweet pickled shallots, dried cranberries, grapefruit vinaigrette

Scallops, celeriac puree and hazelnut aioli, bacon and shallot crumb, apple butter


Chicken roulade, roasted red pepper, goat cheese, arugula, balsamic reduction

Seafood chowder, mussels, haddock, salmon, red pepper, corn


Oysters on the half shell

Arctic char smoked in house, pickled mustard, yogurt, green apple and dill

Entrees ($24-$45)


Mushroom Ragout, crimini mushrooms, sweet potato gnocchi, chickpeas, spinach, coconut milk


Halibut, yogurt baked fingerling potatoes, citrus basil sauce, pineapple and mango salsa, ricotta, cilantro oil

Grilled Island Beef Tenderloin, dauphinoise potatoes, candied carrots, brown butter shiitakes, jus

Salmon, pan seared, spiced rice pilaf, wilted greens, pea puree, ginger remoulade

Pork tenderloin, spaetzle, [parsnip, fennel and apple slaw, caper vinaigrette
Lobster, butter poached, warm potato salad, charred leeks, asparagus


Dessert ($9-$10)


Chocolate pave, banana ice cream, salted caramel, honeycomb, caramelized bananas, chocolate coffee crumb

Blueberry mousse, carbonated blueberries, spiced sponge cake, blueberry compote, honey jellies

Rhubarb curd tart, cream cheese strawberry macaroon, rhubarb spheres, milk crumb, strawberry compote


Inn made ice creams and sorbets












"The diningroom is outstanding - worth visiting the area just to savor such an experience."
– Guide to Eastern Canada