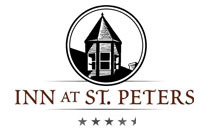 Planning your next getaway has never been easier.
1668 Greenwich Rd. • St. Peters Bay, PEI C0A 2A0
Ph. (902) 961 2135 • Fax (902) 961 2238 • Toll free: 1 800 818 0925 • Email: [email protected]

Dining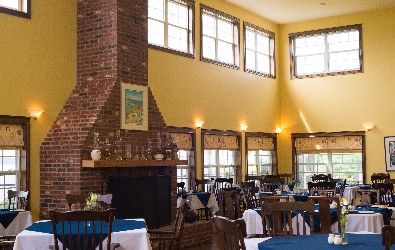 To make a reservation
please call

(902) 961 2135
or
1 800 818 0925

See why Bob Gray of the Island's newspaper The Guardian, named The Inn at St. Peters "The Meal of The Year" and why the Zagat Survey of Prince Edward Island awarded the Inn's restaurant an Excellent rating. In addition to evening meals, the Inn also serves Lunch (see below).
When you enter the dining room the first thing you notice are the wall to wall windows which provide you with stunning views of St. Peters Bay. Evenings are especially spectacular and there are many nights the verandah is crowded with dinner guests taking pictures of one of PEI's prettiest sunsets. Enhance your dining experience by planning to arrive a half an hour earlier to enjoy a cocktail or a selection from our extensive wine list in the Great Room, on the verandah or at the Bar.
As the sun descends beneath the waters, our Chefs and Kitchen Crew work magic in their domain, fashioning epicurean delights you will not forget. Whether it is visiting the North Shore fishermen, local farmers, selecting vegetables and herbs from our gardens or baking all of our own breads and pastries, our Chefs create exceptional cuisine for even the most discriminating palate in a casual fine dining atmosphere.
At the Inn you have the freedom to select from our wide ranging menu. With an extensive list of appetizers, entrees and desserts along with daily specials to select from, even someone dining with us multlple times can enjoy a different meal every night.
Our menu always has a vegetarian entree and our Chefs are able to accommodate those guests who are vegan or gluten free.
As a room guest, a full hot country breakfast is included in your room rate as long as your reservation has been made directly with the Inn. Also, as a room guest, should you decide to join us for dinner you dine a la carte, your choice from our menu with the option of a 3 course dinner for $50 per person. We are very flexible on this and it is not something you have to decide on ahead of time.
We serve dinner every day of the week commencing May 26, 2018 through October 6. Lunch will be served from 11:30-2:00, Wednesday through Sunday starting June 13 to September 15.
We recommend reservations and welcome those Island visitors who are not staying at the Inn.
Dinner is served! While our menu is constantly changing, here are just a few of the selections that have been on our menu this summer:

Appetizers ($12-$18)


Swordfish, grilled, baba ganoush, cucumber, lime and chili chutney, pineapple

Pickled Butternut squash salad, red wine cranberry sauce, crumbled blue cheese, pine nuts, greens


Chicken liver mousse, rhubarb compote, port gelee, crispy baguette

Slow poached egg and fiddleheads, buttery asparagus, croutons, chive emulsion, parmesan

St. Peters Bay Oysters on the half shell

Arctic char smoked in house, pickled mustard, yogurt, green apple and dill

Entrees ($24-$45)


Braised leek, macadamia nut veloute, barley and beet risotto, squash puree, spruce tip oil

Halibut, green pea puree, tarragon oil tossed green peas, grilled green onion, black garlic puree, poached radish, yogurt

Grilled Island Beef Tenderloin, pomme puree, grilled romaine, salted egg yolk, jus

Scallops, pan seared, celeriac puree, celeriac and apple slaw, bacon crumble, mussel sauce

Lamb, braised shoulder, grilled rack, roasted zucchini, acorn squash, Israeli couscous salad, mint


Lobster, butter poached, fingerling potatoes, samphire, lovage, grapefruit, dill emulsion

Island Pork belly, creamy herb polenta, pickled shallots, sea rocket

Dessert ($9-$10)


Strawberry shortcake,, strawberry basil sorbet, pickled strawberries, yogurt cremeaux, basil gelee

White chocolate mousse, berry coulis, toasted meringue

Lemon cheesecake, lemon curd, blueberry compote, creme anglasie, chantilly cream

Classic Creme Brulee

Lunch ($10-20) Served Wednesday through Sunday 11:30-2:00


Island blue mussels

Seafood chowder, cup/bowl

Oysters on the half shell

Green salad or caesar salad

Pulled Island pork sandwich

Chicken Divan crepes


Daily quiche

Veggie wrap

Seafood crepes

Grilled chicken sandwich

Lobster roll












"Gorgeous gardens, food, views and people! Thank you."
– Jill and Donald S.