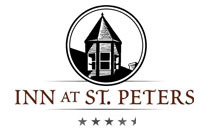 Planning your next getaway has never been easier.
1668 Greenwich Rd. • St. Peters Bay, PEI C0A 2A0
Ph. (902) 961 2135 • Fax (902) 961 2238 • Toll free: 1 800 818 0925 • Email: [email protected]

Chef
Chef Sarah
Sarah joined the Inn in 2012 and assumed the duties of Executive Chef in the summer of 2013. Like many of the top Chefs and one of North America's most popular stores Whole Foods, Sarah's focus is using foods that are unprocessed and unrefined, or processed and refined as little as possible before being consumed, essentially letting the food "speak for itself".
Along with herbs and vegetables from the Inn's gardens, Sarah draws on her extensive network and is always coming to work with freshly picked produce. In addition to using these ingredients in your meal, Sarah loves to make preserves, jams and jellies for that extra surprise on your plate.
Through her work at the Island's Farmers Market Sarah has also developed relationships with many of the Island's fishermen and farmers so that the freshest seafood and meat are making their way from their farms and oceans to our dining room.
Ready to see Sarah at work, here she is....vimeo.com/121180932
Here are some guest comments found on Tripadvisor about Chef Sarah and her team-
"If you don't at least try the restaurant you are cheating yourself"
"The food was excellent, as was the service"
"They cook seafood perfectly and it is very fresh"
"Would recommend this restaurant for anyone looking for fine dining in the area"
"Excellent food and service, romantic atmosphere and great views!
"Beautiful views, friendly staff, fantastic food. Great times in the Maritimes!"
– Jamie and Jackie L. (2015)